It was a big news week.
What's this nonsense I hear about trouble in Afghanistan? Official sources explain that it's all under control. Click for more goodness:
Check the date on this one:
This is still up: MASTER'S PROGRAM IN GENDER AND WOMEN STUDIES, Kabul University.
Nailed it:
Via Mogadishu Matt: Kabul's Collapse and DC's Incurable Arrogance:
And she was off and running with the "my brilliant career" storyline. She boasted that she had an extremely high level of security clearance—unlike the other half million Washingtonian-area employees with humdrum security clearances. She spent a decade based at US embassies in South America, defending the US drug war and other policies that made life hell for the locals.
She extolled the State Department as the wisest of federal agencies. Other government agencies were not only technologically far behind the State Department, she said, but they also had failed to develop ways to assure that the best and brightest (such as herself) rose to positions of command and influence.
I've rubbed shoulders with these people. I was going to describe them here but this Dark Side is already long; I'll save it for another day.
From Gunner Q, featuring Matt again:
When the MIC/CIA realized that Trump was serious about ending the Forever Wars, they put in place a contingency plan. Pull all the uniformed troops out of Afghanistan but install more contractors and off-the-books assets to continue the money laundering and opium harvesting from inside the Afghan Army. The plan was far enough along that even after Trump left, the MIC didn't object to proceeding. Fewer international observers that way, y'know? [. . .]
But then China partnered with the Taliban to strike just as the handoff was beginning to happen… between the black-baggers arriving and their taking delivery on the Afghan Army. Now, those unofficial assets are trapped and being hunted down.
The Canadian PM had to talk about the situation with, erm, Hillary Clinton, apparently because members of the present US administration were unavailable.
Of course, the other option is to find a way to remove Harris first and replace her with someone the party can trust. Then they can pillow Biden before the midterm and run the sympathy script they have ready. This is one of those three cushion shots that makes sense until you think about the options to replace Harris. It reveals the bigger problem with the party. They have run out of people with the minimum of competence, which is how they ended up with Mumbly Joe in the White House.
An interesting essay on the Afghanistan mess – the technocracy has lost its legitimacy:
It is not just that the elite class is incompetent – even kings could be incompetent without undermining belief in monarchy as a system – it is that they are so grossly, spectacularly incompetent that they walk around among us as living rebuttals of meritocracy itself. It is that their application of managerial logic to whatever field they get their grubby mitts on – from homelessness in California to industrial policy to running a war – makes that thing ten times more expensive and a hundred times more dysfunctional. To make the situation worse, the current elites seem almost serene in their willful destruction of the very fields they rely on for legitimacy.
Fairly convincing, though I still think (a) too many people still believe in the technocracy despite everything and (b) there's no alternative waiting in the wings.
Unless you count this guy's idea. Yeah, bet you forgot all about that.
Anyone remember when the terrorists hated us for our freedom? I suppose we're good now: Hundreds of Sydney anti-lockdown protesters identified as police track down attendees.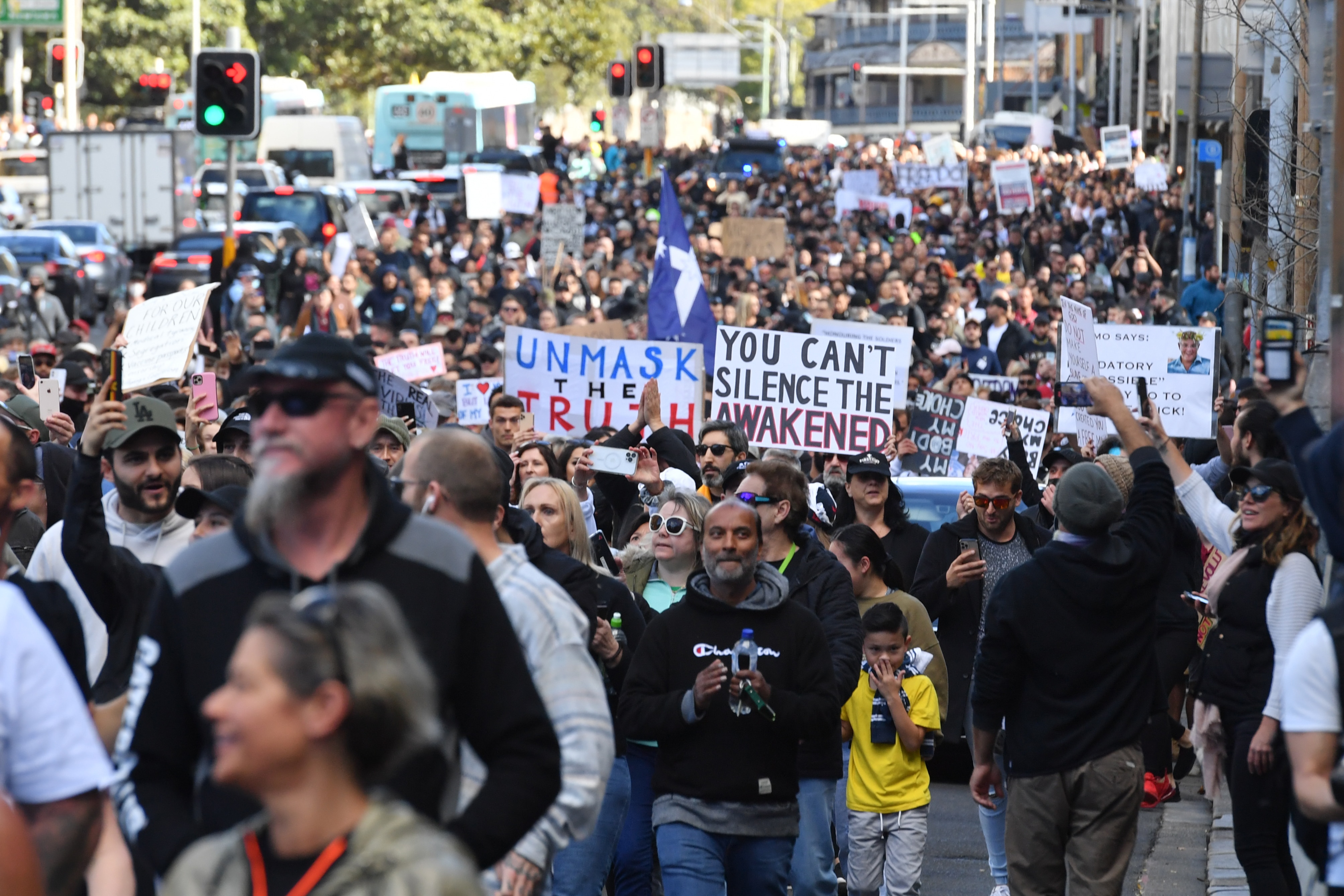 Man imprisoned for 3-8 months for his role in 'organising an unauthorized protest'.
Border force warns stranded Aussies not to attempt to sail home.
English cricket players and their families are allowed in, but. Afghans, too.
Oh well, at least Australian classic art is being perfected/corrected by migrants.
Anyone live in a free country and have a daughter of marriageable age? A friend is looking for a new passport.
This worries me, though: Chinese are blocking fleeing Hong Kongers from taking their retirement savings. Only a matter of time, I guess.
Pretty girl:
. . . she smugly said, "I didn't really want to do it, but I did it anyway." But then her expression shifted to feeling really proud of herself. Her expression lit up and she told us, "See I told you! All the men get a crush on me just after one sight of my body!"
I'm engaged in this story now, looking forward to what I hope is the conclusion.
Business is still good for some – top surgery continued to boom while other treatments were put on hold over 2020. Comments there explain the economics behind it.
How is it that Facebook's new virtual meeting program looks the same as 1996's Worlds.com? Incidentally, that site still exists and is the subject of urban legends:
History is fake and ghey:
One of many reasons I never went anywhere in my career as an academic historian is that I actually like history. I find it interesting. That's because I find people interesting, and history is, above all, the study of people and how they be.
Your average academic historian lives entirely in xzheyr own head. They hate and fear people. They have no interest in how people actually are, only in how they should be.
When I did history it wasn't yet that bad but it was getting that way. One lecturer introduced us to the idea that only whites can be racist. By now I'm sure the whole field has been lost. Where are the Taliban when you need them.
Film recommendation: Gaslight, 1944.
Meanwhile in Japan there is an unmanned, 24-hour, honor-system electronics and appliance shop. Why can't we have . . . oh, yeah.
Illegal dumping fail:
Smartphone theft fail:
The help you get when you're a pretty girl in a little dress!
That's it.