This is an extract from The Poor Man's Guide to Financial Freedom: A Realistic, 10-Step Manual for Building Liberating Wealth on a Low to Medium Income.
Growth Assets 2: Real Estate
Executive summary:
Jargon: The terms 'real estate' and 'property' can include houses, apartments, office space, retail space, or even farmland.
Risk: Like shares, it is possible for the value of real estate to fall as well as rise.  More about this below.
Return: If you go online you can enjoy reading never-ending arguments about which is the better growth investment in the long term, shares or real estate.  These threads usually end in vicious personal insults and accusations that the other contributor is merely a shill for the rival investment vehicle, and an idiot.  I'll not get into it. 
Let's leave it at this: over a long investing horizon, returns on real estate in general are comparable to those of the stock market, i.e. pretty high.  That's what makes it a growth asset.
The details:
You might either invest in property as a place to live (and thereby save on rent in the long run), for rental income, or for the hope of eventual capital gain (that is, being able to sell the house later for a higher price than you bought it for). 
Your Own Home
Whether it is a tacky Hollywood mansion, an igloo, or a hobbit-hole, many people dream of purchasing a home – a piece of the Earth to call their own.
If you are buying a house to live in, that is a lifestyle choice as much as it is an investment.  If you are raising a family, buying a suitable home makes a lot of sense regardless of the financial return you might get from it.  This is why I don't like to get into whether buying a house is a better investment than the stock market – your kids can't live in shares, nor can you put swings or a veggie patch in them, so there is no comparison unless you are only buying an investment property. 
There are some people who claim you have to own your own home in order to reach financial freedom. 
I disagree.
Such people often say that having to pay the mortgage each month forces you to invest for the long-term. Well, yes, but if you were disciplined enough to invest the same amount of money into other growth assets then you'd still be doing fine. In any case, if your own home is your only investment, that is a problem because you are not diversified enough – you should also hold some other assets.
The you-must-buy-a-house crowd might also say, you'll be renting forever if you don't get into the housing market. Well, maybe you will, and you won't mind because you prefer that flexibility. Or maybe you'll buy a house later on in life, when you might not even need a loan to do so. It depends on your circumstances and what you want. Plenty of people increase their financial freedom by buying a house, and plenty of others achieve the same without buying a house. It is not a 'must'.
Buying a house to live in suits a large proportion of people.  You can use it as security for other loans (but be very careful with those, as we discussed in Step 1: Don't Get Into [More] Debt), and retirees find it extremely advantageous for their long-term financial security to own their own house because that is rent taken care of. 
In times of financial stress, selling the house and moving to a smaller, cheaper place can be a powerful way of generating much needed cash, even though it may be painful to do so.  People who do not own a home obviously lack this option.
Also, though few consider it, you can generate income by renting out a room to a boarder.  People who live near a college or university often find this lucrative, especially if they are hosting foreign students.
Further, you can even save money on groceries by growing your own vegetables in the backyard.  The financial and non-financial benefits of owning your own home are countless.
But it isn't all good news.  In some ways a house can be a liability as well as an asset – that is, it can actually cost you money.  You'll probably have to pay some sort of local rates, land taxes or that sort of thing – and these can be changed at the discretion of the government.  In Illinois, US, property taxes are notorious for reaching 2% of the real estate value annually.  At the time of writing there is even talk of raising them further.  If you don't like a rise in rates, your only alternative is to sell up and move.  Check the local rates before you commit.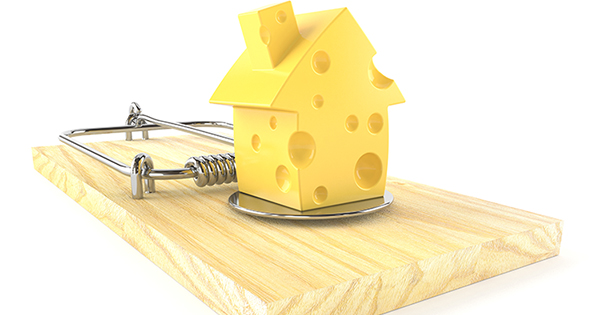 In addition, it will cost you money to maintain the house.  Houses don't look after themselves, and you'll be frequently fixing roofs, plumbing, electricity, broken windows, mold, and anything else that might need work, and you need to consider the time and stress that this might cause.  On the other hand, some people love working on their own home.
A further risk is that, like shares, it is possible for property prices to decline, especially in the short term but even occasionally in the long term.  This might be caused by a general decline in property prices due to broader economic factors, or to changes in your local area that make it less desirable.  Prices in some parts of the United States have still not recovered to their pre-2008 valuations following the housing crash in that year.
Sometimes a fall in property prices means that a homeowner is trapped in that house: the amount of money he'd get out of the property if he sold would be less than what he still owes the bank, leaving him stuck.  That is, the property is worth less than the mortgage.  This is called 'negative equity', or more dramatically, being 'under water'.  In such a case, selling the house to raise quick cash is not an option, and you are forced to stay there and continue paying a mortgage which is far more than the house is really worth – or sell and suffer a loss, and perhaps bankruptcy.
 None of this is intended to put you off buying a house.  Rather, I wish to show that the phrase 'safe as houses' means 'pretty safe', not 'perfectly safe'.  You don't have to buy your own home in order to be financially free – I have not – but it is a wonderful thing to have, and certainly makes raising a family a whole lot easier.  Consider the pros and cons, get advice, and make the best decision for your own situation.
Be aware that real estate agents, mortgage brokers and property seminar people are not usually required to give you advice that is in your interests.  They make money by making a sale – sometimes a lot of money.  See Step 9 for how to get a real advisor.
Be sure to do your due diligence before buying a property – what is the neighborhood like?  Is the building structurally sound?  How is the plumbing?  Was there ever a mass murder committed within its walls?  For an absolute worst-case scenario, listen to this creepy podcast on the bizarre case of the Westfield Watcher.[i]  At night.  With all the lights off.
There may be other considerations if you are living abroad.  Some countries do not allow foreigners to own property, while some only allow you to own an apartment above the ground floor, not the land itself.  Some jurisdictions are not renowned for respecting the rule of law and powerful people may use corrupt courts to take the property off you. 
In some places, other tenants in a condominium may not contribute their fair share to maintenance, either letting an unfair burden fall on you or allowing the property to deteriorate.  In other places, buildings are not built to last, and elevators, fixtures, and plaster may be falling apart after only five years.  China, cough, China.  Again, do your due diligence, wherever you are.
Presumably you will need to take out a loan to buy the house.  Look around and make sure you get the best deal you possibly can – some non-bank lenders offer very competitive rates.  Try to pay as large a deposit as you can.  This means you can get a cheaper mortgage interest rate, and it also gives you added security because there is less risk of negative equity (remember that?).  Of course, for most people it would be unreasonable to save up for too long – ideally you'd love to hand over a 100% down payment and not borrow a cent – but by then the kids would be grown up and no longer interested in backyard swings.  Do what you can.
Penultimately, do not fall into the trap of buying the biggest, best house that you can based on how much you are able to borrow.  There are no two ways about it: the more you borrow, the more you'll have to pay back.  That will either mean higher mortgage repayments, or payments over a longer period of time, or both.
Be reasonable.  How big does your house really need to be?  How many garages do you require?  Is the pool essential?  The huge backyard?  The Ferris wheel?  As we discussed back in Step 2: Make a Frugal Budget, the only path to financial freedom is to spend less than you earn, and your house is no exception.  Just because you can get the loan for a property does not necessarily mean that you can 'afford' it.
Aaron Clarey published an astonishing account[ii] of his time working in a bank in a posh area during the housing bubble.  All but two of the lakeside mansions were 'owned' by people who could not really afford them, using unsustainable loans that eventually went bad once the Great Recession hit in 2008.
Owning (or striving to pay off) the biggest house possible does not give you financial freedom.  Only spending less than you earn gives you financial freedom, and less expensive real estate is part of that equation, whether it be to rent or as your own home.   There are no magic exceptions to this grim mathematical law.
Finally, a note on mortgage repayments.  If you have a mortgage, you should be paying it off as quickly as you can.  As with those other debts we discussed back in Step 4, the longer it takes to pay off, the higher it goes and the bad kind of compounding kicks in.  If you only pay off the minimum required each month then you will make little progress.  Instead, try to make extra repayments that will whittle away the debt more quickly.  Even putting in a little more can reduce the time it takes to pay off by years, and the total amount by tens of thousands of dollars.
Be aware that in most jurisdictions, these extra payments count for nothing if you default.  That is, say Muggins has been diligently paying his monthly mortgage plus a bit extra for ten years.  Come the eleventh year, he loses his job at the call center and cannot pay the bill.  He tells the bank, 'But what about all that extra money I paid early?  Doesn't that offset it somehow?"
The kindly bank manager replies, "No, sir.  Pay the due amount or we shall foreclose on the house."  What is Muggins supposed to do?  If you were paying attention back in Step 3 you'll know that he's supposed to have already set up an emergency fund to cope with this sort of problem.  He should have enough cash in that account to pay all his expenses, including the mortgage, for six to twelve months – hopefully long enough for Muggins to find himself a new job.  Now are you seeing how important that fund is?
Also note that in your list of financial priorities, paying off a housing debt does not necessarily come before making other investments, as do consumer debts.  It's a special case, and it may be rational to do more than one thing at a time.  It depends on your interest rate and other factors.  If you missed the links about making this calculation earlier, here they are again.[iii] [iv]   Your financial advisor can also help you with this once you get up to Step 9.
---
[i] https://www.unexplainedpodcast.com/episodes/2019/2/16/lhpe4sk7s6q483xq43ww9ws1qy8xch
[ii] https://captaincapitalism.blogspot.com/2019/04/the-house-on-lake-minnetonka-that-never.html
[iii] https://www.nerdwallet.com/blog/mortgages/invest-or-pay-off-your-mortgage-heres-how-to-decide/
[iv] https://smartasset.com/investing/should-i-pay-down-mortgage-or-invest
Also available on many other platforms.