Meanwhile, state and federal officials signal their virtue by parading around—even outdoors—in masks, as if such displays were substitutes for reopening schools and repairing the tremendous damage that has been done to the economy by pointless lockdowns and restrictions.  But this is where we are in America in 2021:  comforting pantomimes and pirouetting around a problem are now seen as substitutes for meaningful action.  No one is willing to step forward and say "enough" in the face of pointless nonsense, for fear of being called a bad name, or for fear of losing his job.  And so the public suffers as a consequence.  The situation cannot persist.  At some point, a terrible price will be paid for this cowardly withdrawal from the responsibilities of leadership.  Our military, too, will eventually pay a terrible price for its failure to assign priority to time-tested principles of combat readiness over politically-correct, delusional social engineering experiments.    
When will we reach our Falling Down moment?
For Britons, perhaps it's the passing of this law later today, banning "non essential" overseas travel, at almost the precise point the herd/vaccine immunity makes itself clear on the official statistics.

Sorry. WHAT?

Over the 806 years of Common Law, the principle has been consistent: if something isn't explicitly banned, it's allowed. Look at how lightly the current crop of politicians are prepared to flip that on its head.

Previously, if a citizen (synonym; "free man") wished to travel overseas, they would only be prevented for a small list of reasons such as to flee prosecution for a criminal offence, or there was a reasonable expectation they were intending to commit an offence overseas (child abuse, for example).

In 2021, we now have just ten reasons a citizen can cite to not be detained in domestic captivity.
Cancellation is an asymmetrical threat. Baquet probably wants to write a book someday. All powerful within the NYT structure, sure, but it's not entirely unrealistic to think Hannah-Jones could "raise questions" after Baquet retired.  You can see the headlines now. "Journalist wonders why Baquet is getting millions in book deal when he continued to employ racists after their behavior came to light." (leaving aside the joke of calling the Nikole Hannah-Jones a journalist.)
Woke teachers, administrators and parents compile a list of those parents against Critical Race Theory and declare war on them:
"I'm listing them this way: -First name -Last name -Alias(es) -Location," Durham wrote.

"I'm losing any hope that remaining civil towards these people changes anything," she wrote. "Avoiding these people isn't enough to stop the spread of their evil rhetoric."

"Anyone know any hackers?" she reiterated.

Members of the "Anti-Racist" group sprang into action, listing dozens of parents, often including where they lived, their employers, or their spouses' names.
It seems like the biggest names in the Manosphere are men who (1) are not Western by birth, or (2) are second generation descendants of immigrants to the West, or (3) have traveled abroad for years. This is no coincidence, seeing how the West is totally cucked.
How racial groups rate each other:
Here's another view of the data that shows more clearly that warm feelings are still 50%+ across the board: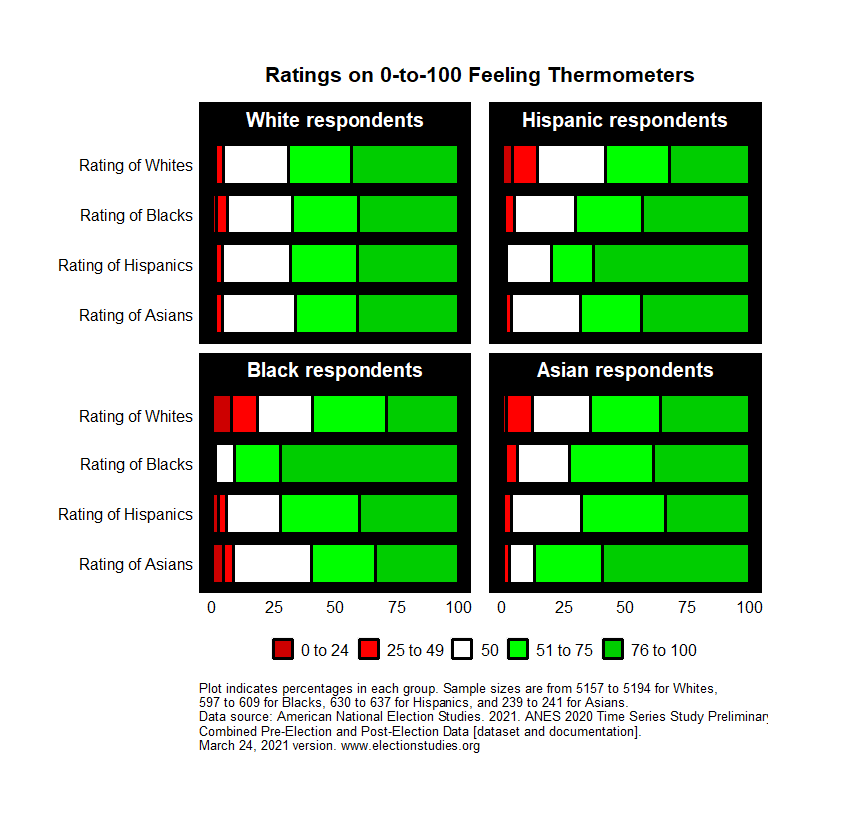 Kind of related: how American views on immigration changed over time, across the political spectrum:
The ship stuck in the Suez Canal drew a cock and balls while waiting to enter:
Soon we can use the Northern Sea Route instead:
Though these [transits] began in the Soviet era, volumes were low at no more than a couple dozen ships carrying 200,000 tons per year. Meanwhile, after a false start in the early 2010s, there were 62 ships that made the journey in 2020 carrying 1.28 million tons of cargo. This is still only marginally above 0.1% of what passes through the Suez Canal, but given the much shorter distances (35%, or 5,000 km less) and no congestion issues, it is clearly the much more preferable option if the sea ice problem could be solved – which global warming and new generations of nuclear icebreakers are doing.
Aussies planning to retire abroad watch out: you may not be able to get the pension. Foreigners also watch out: as our nations progressively run out of money, other governments will be looking for ways to cut back on pension spending and this particular way is going to look pretty tempting.
David was married in March 2018 to somebody who seems well-born, Alexandra Craig (and two cats), but it was a very short marriage indeed, and he was soon found to be in the arms of RAPE victim Liberal Party staffer Brittany Higgins, the hope of our time, the light of the way, and provided much comfort to her in her hour of dire trauma internalisation need, specifically by planning and plotting out how the story would be broken to the media:
Even if you're not Aussie, do yourself a favour and follow this story over at Clown World. See his back catalogue if you need to catch up.
From the Gray Zone:
The terror suspect the CIA got released (an involved story if you have the time. May spark 9/11 doubt in even the sturdiest of souls.)
Skepticism on sources claiming Uyghur genocide.
How the US military torpedoed the peace agreement with the Taliban.
Any opinions on this website?
My review of Under the Nihil sparked a more spirited response than expected. I was reminded of another Catholic-themed novel that might interest readers but now for the life of my I can't remember the title or author.
Can anyone help? The plot is that a Jesuit priest who specializes in Church history is called upon to formally respond to a recently published book, allegedly by an anonymous priest, that poo-poos the official version of Church history and tells a more honest, warts-and-all version. Unbeknownst to the Church hierarchy, however, the Jesuit selected to refute the book is the author of it. Australian, mid-century.
Anyone?
Meanwhile in Japan, a British man is caught dumping his used bento box in a mailbox, gets beheaded.
That's it.
---
See my review here.