Here it is:
The results speak for themselves.
Only one factor here has been widely reported: for once, 'women most affected' was not just a meme. This is probably because many work in the service industry while more men work in sectors deemed essential which did not shut down.
Now let's look at the buried factors: urban, educated, high-income earners have been thriving.
Not just Bezos, Gates and Zuck. The well-off in general, enjoying skills they can market from any location, have largely been able to both stay home and stay in work.
Note that they are not just doing okay. They are better off, reporting improvements in their finances, physical and mental health, personal life and work/life balance.
They are even reporting higher incomes and greater job security.
Alright for some.
No wonder our masters are urging tighter lockdowns and ever stricter mandates: they're enjoying it. In their circle everything's absolutely fabulous, darling. What the hell are those deplorable plebs bleating about? Clearly they want to kill grandma. Maria's too dumb to realize there's no point having a good economy if we're all dead.
For the plebs – those with limited education and low incomes who live outside the urban bubbles – things are bleak. All areas of their lives have considerably worsened, presumably because they're out of work or their hours have been cut back. Small business has been shattered even while the S&P 500 has soared.
Seeing the whole graph, one can surmise why our media propagandists are not pushing the male/female divide as hard as one might expect. These are poor women out of work, not anybody important. Service workers, small business owners, retail drones, that sort of thing.
Professional women – the only ones who matter to the official media – are doing fine. They're getting in some yoga time in between Zoom calls about harnessing a shift in the cis-normative paradigm to enhance brand loyalty.
Here are some related charts. H/T @thebrumby: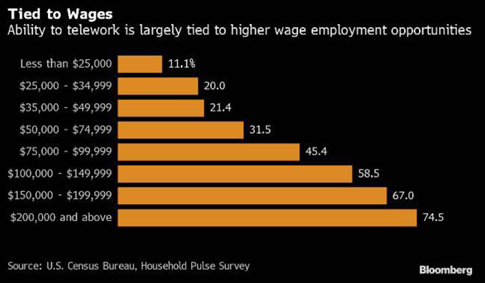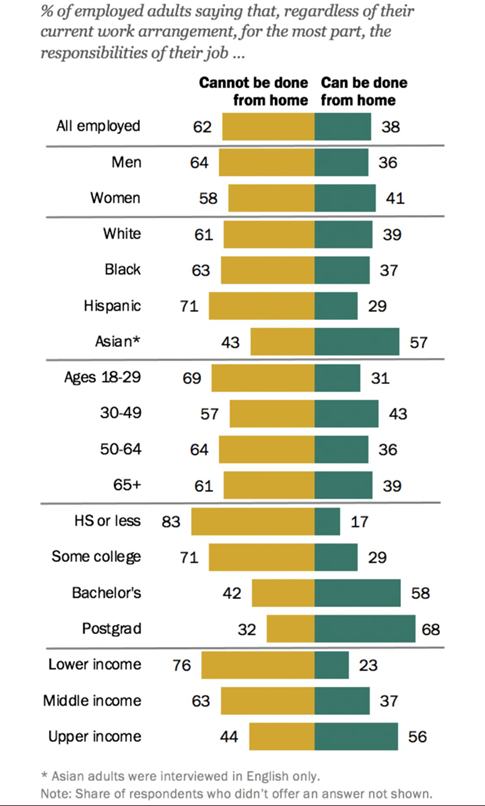 More things to note:
I'm closer to the elite group than to the proletariat one. While I've been heavily inconvenienced by lockdowns, I suffered no material hardship and my net wealth increased over 2020.
As @eugyppius1 says, the lockdown was not so much a traditional quarantine where people in the area of a severe outbreak are ordered to stay home while rations are delivered from the outside. Rather, it was more of a shelter-in-place as for natural disasters. This had the effect of safely quarantining high-income earners while members of the working class still employed were out and about making, fixing and delivering things for them, partly explaining their higher infection rates.
All these figures are from the US. No doubt the sharp contrasts will be blunted, but not eliminated, in those developed counties that offered more welfare.
These effects are much more extreme in poor countries that cannot offer much assistance at all. Reports suggest extreme poverty will quadruple globally. This is partly due to the virus itself but some large fraction of it must be due to lockdowns and travel bans, local and foreign, that are causing whole industries to be mothballed.
The efficacy of lockdowns in controlling the long-term spread of respiratory viruses remains controversial. If they are helpful, this must be balanced against concerns for equity.
One must also confront the issue that those privileged individuals in a position to influence policy on these matters are also those at least danger from suffering lockdown's harmful side effects and even benefit from them in several ways.
---
Also available on many other platforms.