Hi, kids.
I'm not in general a fan of David Cole, but this piece is great for clearly outlining where California is on its path to anarcho-tyranny. Despite all the evidence in the world, authorities refuse to arrest a thief caught on camera. But if a normally law-abiding person goes to the beach, watch out!
Over in Eritrea, just when you thought things couldn't get any worse, guess what? Jack Ma was flying out medical supplies to African nations, but the Presidente refused to let the plane land in Asmara. In the interests of self-sufficiency, he instead asked penniless slaves on national service to 'donate' some of their 'salary' to buy equipment instead. If this were a serious disease, they'd be doomed.
Was the lockdown policy currently being instituted all over the world actually developed and game-planned anywhere before being implemented, or was it just thunk up on the spot by panicked governments that copied China?
I found the answer. It seems the strategy dates back to around 2006, and partly emerged from a high school science fair project. It will not surprise you to know that George W. Bush played his part.
Here's a cool new hospital bed that Grandma will love: it can conveniently convert into a coffin. I'm getting one for home. I vaguely remember it being cool for 90s goths to sleep in coffins but I think it was more of a meme than something anyone did.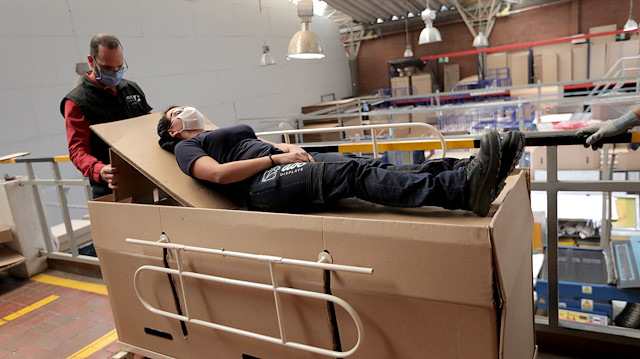 Themed investment funds often don't do very well. That's too bad. I was thinking of starting a family of Evil Funds – one would invest only in companies with no female representation on the board, one would seek out the biggest polluters, one would invest in pron, prostitution and sex dolls. Oh well.
I stopped following Spandrell because he was putting out too much pro-CCP propaganda. Having lived in Japan for so long, I have assimilated their justified prejudice and will never take the Chinese side in anything. However, this is a good piece which demonstrates how Neocon twits are taking advantage of current turbulence to further their own careers and agenda.
A thread of professors caught spying for China. Oddly enough, they have nothing at all in common. Nothing a good person like me would notice, anyway.
Don't you love Wayback Machine? It's a great way of poking fun at twit hypocrisy and pulling out archived examples of their comments from outdated versions of political corrrectness, i.e. Obama speaking against gay marriage. We can also catch a glimpse of memoryholed truth. So of course, TPTB are pushing to ban it.
Also from iSteve, a 2000 doctor's strike in Israel lowered the death rate.
Excellent article about Australia's new relationship with China, which has been getting rocky lately. Rather than accept our differences and trade nevertheless, China is now demanding utter obedience from every small nation, and punishes them economically if they do not comply. I will write more about this development in the future, but for now, this piece outlines the situation and the best path forward in a succinct and logical manner.
You know those marriage horror stories you used to read about on Athol Kay? This is a separate site, and it is the single most toe-curling, spine-chilling, vomit-inducing account I have ever heard. According to intermediaries, it is true. If you must leave a comment, be gentle. He's not in a good place at the moment, and it is not my intention for readers to pile on.
Third world doctors in the UK. Related: subsidized prescription meds are mysteriously leaving the UK.
A chivalrous pervert hunter in Japan is not all he seems.
That's it.
* * * * *
I'm flogging a book:
The Poor Man's Guide to Financial Freedom: A Realistic, 10-Step Manual to Building Liberating Wealth on a Low to Medium Income
Also available on many other platforms.