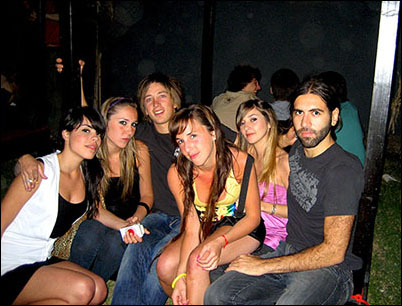 Yup, it's Roosh V Stalking Month.  We previously featured a review of his book and a discussion based on comments on his site.
Roosh recently announced that he'd gone Christian, would no longer fornicate (his former hobby and full-time occupation), and would no longer allow discussion about it on the Roosh V Forum, which was mostly about just that.
Well, good luck to him.  Regulars here will already know my own spiritual views, but I think religion is beneficial for some people like Cat Stevens, Roosh seems like a man who needs a firm rudder in his life, especially now that the world has fallen down upon him.  I hope he finds what he's looking for.  I just hope he doesn't become dour.  His best writing is always when he is poking fun at himself.
Those who had vaguely heard of Roosh as some sort of degenerate PUA were bewildered and skeptical about the change, but those of us who've been following him for a long time, including most commenters on his site, expressed no surprise.  It was clear he'd reach this point eventually.  In fact, I suspect he reached it some time ago but was not yet ready to yell it to the heavens.  As I mentioned in my review of his book, it was only once he became reflective upon and critical of modern sexual debauchery that the SJW mob and Big Tech set upon him.  Previously, they cared about him and his 'Bang' books not a jot.
Several comments were noteworthy, and have inspired several posts.  The one I wish to look at today is by David.  He said downstream on this related post (slightly edited):
Well I think, close to 40 and after banging hundreds of women from the different parts of the world, it is very easy to speak about finding God and that you're previous easy lifestyle didn't . . . make you happy.

Okay, I see, and of course I know that nothing in the world can make people perfectly happy and satisfied . . .  Clear, I do not expect that, I know hedonism is a dead end.  No problem.  And it is natural that you already can't find any challenge and excitement and gladness and pleasure and goals in looking for new girls.  It's obvious, you have achieved in this field of life everything that a man could imagine and dream for himself . . .

But not everyone is so successful with women like you.  People who cannot experience the real success among women, how the fuck should we focus on looking for God and living a traditional life??  Everybody knows that finding a girl who is appropriate for traditional life (for example, not jumping from one cock to another, but 3 children in her twenties) is practically impossible even for a natural alpha, so what should, say, an average guy do?  I can accept that a trad life and loving wife would be the ideal, but it is not manageable without a large dose of luck.  Devoting your young ages to look for a good girl and look for God without any real success among women is madness.  You should pursue casual sex to improve your game and just should keep your eyes open to notice if a possible good girl is on your way . . .
David has a point, and it's one that's recently been discussed in some depth on Dalrock's site, over several posts and into the comment sections.  This one is a good example.
The problem with modern, Western Christianity, in a nutshell, is this: mainstream Christian families expect their children to finish higher education, pay off debts and establish themselves in their career before getting traditionally, monogamously married, around 28 at the earliest and most likely later.  What they never want to discuss is what they will do sexually between the ages of 18 and 28.  Waiting until one's early twenties to get married and loose one's virginity is doable, but few of us weak human beings, no matter how well-intentioned, are going to manage for a decade, much less for 15 or 20 years.  Christian parents know that this will not work, and deep down, for their daughters, they no longer want it.
They realize in their heart of hearts that their daughters are going to sleep around with bad boys until they near the wall, and then claim to have grown up, become ready to settle down, and will marry a blue-balled beta who will again be blue-balled within a few years of what we jokingly still call 'marriage'.
And the boys?  Here I suspect the parents are less red-pilled, but my readers will know that the top 10-20% will be among the lucky cool guys to bang those hot, nubile Christian girls during their appointed running-around period, while the rest will mostly resort to pornography, and be fiercely criticized for it by their priests, their elders and their future wives, if they find one.  Which is a bit unfair, if you think about it.  In Australia we would call this, 'copping the rough end of the pineapple'.
But this doesn't apply to Roosh.  At his (our) age, it is much easier to live a monkish existence if required.  But, remember being young?  I was sometimes so horny that I had trouble walking girls back to my place because of my raging stiffy.  I was so horny that sometimes I'd meet an ugly girl and think, no way I'm going there, but a few minutes later I'd think, but sex, and then I'd be walking her home with a raging stiffy.  In my incel days I could not for the life of me tear myself away from pornography, even though I was much more moralistic back then.  I even tried imposing a fine on myself every time I did it: for causing harm to those poor, exploited women I would make a donation to charity, but all that achieved was that the Brotherhood of St Lawrence got stacks of cash which they probably spent on booze and whores.  I'm joking.  Don't sue me.  I'm sure they're not like Oxfam.
Face it: young men and women are horny.  There are even funny stories in The Decameron which show that young, unsatisfied wives tend to stray (one is kidnapped by a pirate and when her doting but doddery husband arrives to rescue her, she refuses to go).  As for men, they are even hornier, in the sense that they are less selective.  They don't go mad with lust in the presence of an alpha female, they just go mad with lust in the presence of a bangable female, and in the case of young women, that's 80% of them.
If young women continue to postpone marriage, then most young men have to put it off, too, and we get the situation described above.
A religious person would perhaps think, so what, you should be focusing on the afterlife, not this world.  From my secular perspective, this is unrealistic.  A religion must offer people something.  Most people cannot be monks or nuns.  A religion should offer order, certainty, tradition, guidelines, a community, friendships, marriage and children.  It should offer sex within a socially beneficial framework, i.e. one that leads to the secure upbringing of offspring.  Islam offers this.  Hinduism offers this.  Orthodox Judaism, the Church of Later Day Saints, and the Eastern Orthodox Church offer this.
Modern, Western Christianity no longer offers this.
A young man cannot grow up or become a Christian and realistically expect to marry a young virgin in his early 20s and start a family.  This is not a plausible option for all but a very few.  Instead, he is expected to wait until his potential brides have had their fun and got their feminist merit badges for career advancement, and then settle down.
I don't understand why any man would sign up for this, and indeed a lot of the young, male commenters on Dalrock are asking themselves the same question.
So, while I respect Roosh's new turn, I invite him to consider this issue.  Why Roosh?  Well, why not him?  Surely he has an interesting perspective on this from the other side – he was one of those fellows who was banging out the young, no doubt often 'Christian' women who weren't yet ready to settle down, and who are now thoroughly alpha-widowed by men like him and are no longer suitable brides for himself or for others.
I don't expect him to have any magic solutions, but perhaps he might have some insights.  Because, while I also respect the philosophizing Dalrock's done on this issue, I'm sure he has no clue.
If things do not change, young men will abandon Christianity and the church will die in America, as it has already done in Western Europe.  That's fine with me, but I don't think it's fine with Roosh.
---
Also available on many other platforms.
Also available on many other platforms.